The South Whidbey Schools Foundation wrapped up the 2014-15 school year with two awards for outstanding SW School District faculty.
The Extra-Mile Award acknowledges and honors a current South Whidbey School District teacher for having gone the proverbial "extra-mile" in terms of service to students and faculty.  This year's recipient is Charlie Davies, a South Whidbey graduate and the special education and work-based learning teacher at South Whidbey High School.  Davies' nomination was endorsed by more than 25 district faculty and staff.
As Davies' colleagues explained:
"I have seen Charlie be a teacher first, but also a mentor, adviser, coach, trainer, disciplinarian, and someone who the students look up to and strive to be like. He can take a bad situation and turn it into a great positive learning lesson for the students. He amazes us every day. I can go on and on about the respect I have for this man. He gives everyone around him the feeling of wanting to do their best," wrote one colleague.
"He goes above and beyond to make sure he has given our students every opportunity to succeed," wrote another.
The award, which includes a cash stipend, was presented to Davies at the Senior Farewell Assembly for the Class of 2015.
SWSF's annual Mentorship Award recognizes teachers, principals and other school-based staff who exemplify the kind of commitment to students that creates exceptional results. Graduating seniors nominate a teacher who has had a lasting positive impact on their lives.  This year there were 21 nominations for 13 different teachers.
Leading the nominations and this year's recipient is Chad Felgar, also a South Whidbey alum and currently the high school shop and agriculture teacher.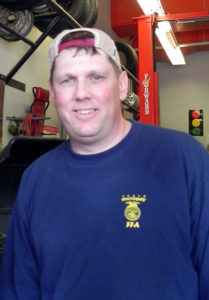 n nominating Felgar, graduating seniors had this to say;
"He always keeps students busy with new, fun projects," wrote one senior.
"Mr. Felgar has influenced me to be the best I could possibly be.  He has given me the confidence to be who I am," wrote another student.
"(Mr.) Felgar showed me what it is like to have a job, good work ethic and to be a leader," commented another student.
"He's pretty chill, he does all types of classes and he does them well," wrote another senior.
Felgar, who will be leaving the district next year, received the award and the accompanying cash stipend at the Farewell assembly to resounding applause from the senior class.
The award was established by Steve Shapiro, MD, and his wife, Debora Valis, for students in the community to acknowledge and honor the leadership, mentorship and inspiration of specific teachers who have unlocked the doors to the future for their children.
There are eight years of funds remaining for each award. The South Whidbey Schools Foundation is a 501(c)3 non-profit organization dedicated to providing support to teachers and students in the South Whidbey public schools.
More information about the awards, the Foundation's activities and how to make a charitable tax-deductible donation can be found on various pages of this website.