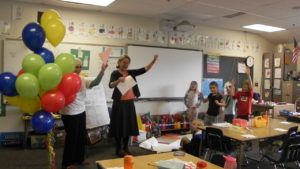 South Whidbey Schools Foundation awarded nearly $30,000 – a new record for the nonprofit organization – to fund 26 classroom projects for the 2015/16 school year.
The projects include robotic kits for second-graders to learn engineering and programming using Legos, an aquaponics and an aeroponics chamber, growing salmon in the classroom, a sound recording studio, exploring watershed science, and atomic modeling at the high school. Of the $29,780 awarded, $17,800 was for STEM (science, technology, engineering, and math) projects.
Retired educator and SWSF Board Member Jean Shaw went to all four schools November 2, presenting teachers with funding letters and balloons, frequently receiving hugs from the educators and applause from students.
The Schools Foundation raises money through an annual Spring Gala, the local Dine-Out Wednesdays for SW Schools program, a March talent show, and an annual appeal drive.  All these efforts, however, were not enough to cover the $42,922 in requests that it received this year.
"We had to make some difficult choices," said SWSF Board President Chris Gibson, "but we did our best to fund or partially fund 22 projects right away and have committed to funding four more early in 2016 after our annual fund drive. We're also looking to develop an "Adopt-a-Grant" program and just had our first donors step up to fully fund a project which we could only partially fund," he said.
Since its inception in 1994, the Schools Foundation has funded more than $225,000 in teacher-requested projects and materials to enhance educational excellence, projects which the school district is unable to fund due to tight budgets.
A full listing of classroom grants is available on the Foundation's grants page at http://southwhidbeyschoolsfoundation.org/educational-grants/